On this date in...
1942: During World War II, Japan's Congress grants the Philippines the "honor of independence" on the condition that the Filipinos collaborate in the promotion of the Co-Prosperity Sphere.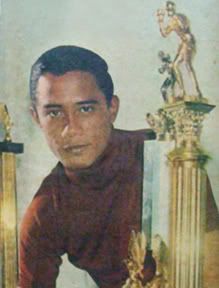 1947: Erbito Salavaria was a retired Filipino professional boxer who was born in Sta. Cruz, Manila, Philippines. He was known as the one of Asia's best during the 70's in the flyweight division.
1984: Toni Gonzaga was born in Taytay, Province of Rizal, Philippines. She is a Filipina commercial model, singer and an actress. She had been participating in various singing competitions since she was seven and finally entered the showbusiness at the age of thirteen when she became a contestant in a singing competition.
2001: the Supreme Court declared the presidency vacant. Arroyo was sworn in on the same day as the 14th president of the Philippines by Supreme Court Chief Justice Hilario Davide, Jr. In her speech before the people at EDSA, Arroyo reiterated the following principles that her administration will pursue: being bold in national ambition to win the fight against poverty; improve the moral standards of government and society to provide a strong foundation for good governance; change the politics of personality and patronage to a politics of to a new politics of party programs and process of dialogue with the people; promote leadership by example and solid traits such as work ethic and a dignified lifestyle, matching action to rhetoric, and performing rather than grandstanding; pursue an economic philosophy of transparency and private enterprise and extend the opportunities to the rural countryside.